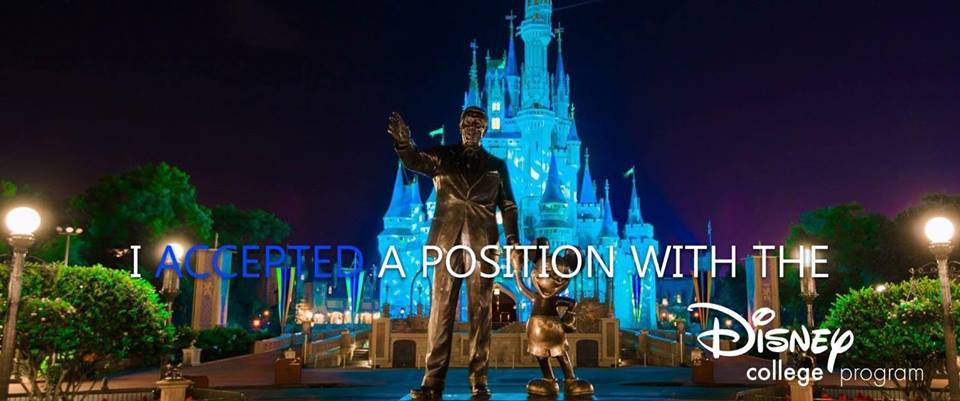 I accepted my position with the Disney College Program on March 10th 2017 for the Fall Advantage Program which will start in May and end in January!
My Journey
This journey was not an easy one, I applied for the DCP for the first time my second semester freshman year and was immediately placed into submission, which means that you passed the initial web screening of your application but, they want a recruiter to take a closer look before you get a Web Based Interview. I was in submission for about a month before I was NLIC or no longer in consideration.
Second Application
The second time I applied things got interesting, I immediately passed the initial screening and got a WBI (web based interview) and passed it within 15 minutes and got a phone interview. At the time I thought it would be easier for me if I only applied to the Disneyland program. But honestly I was just a little scared about moving to Florida alone and I am terrified of bugs and thought I couldn't handle it. I ended up getting waitlisted for two months and didn't hear anything back until two days before people began arriving for the Disneyland program. After all of that waiting I got NLIC again!
Third Times The Charm
Third times the charm right, I applied the day the apps dropped and passed the WBI the same day and scheduled my phone interview for four days later. I was very clear during my interview that I only wanted 3 roles, which is crazy because I think there are 18 options but I wanted to work at a resort so I only was interested in Merchandise, Front Desk or Lifeguard. I also realized, through some unfortunate circumstances in my current dorm, that I was very capable of dealing with cockroaches. I waited around a month and while on a plane to Palm Springs I received my email saying I was accepted for the role of Lifeguard for Fall Advantage and Disney World.
Honestly, I am so excited to start! I am counting down the days, sure it is going to be complex and maybe even difficult, but i'm moving to Disney World to intern for my favorite company in the world and that definitely outweighs the difficult.