I tried a ton of different masks this month and I wanted to take the time to review them because I couldn't find a ton of reviews of these particular masks (I also toss in a couple of others I tried for good measure). Let's get started!
Ok so i'm going to start with all the Glam Glow masks I tried: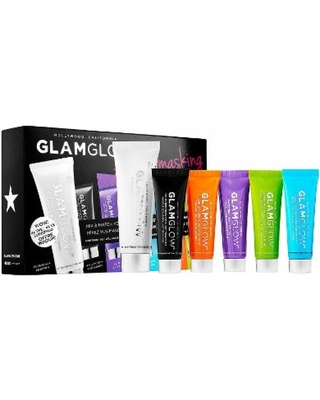 The set I purchased initially.
1.SUPERMUD
I got a set of all of these masks. I heard really good things about GlamGlow but buying a 70 dollar face mask that I wasn't sure I would like seemed a little risky. When I found this set during the holidays I new it was perfect for me. The first and largest bottle in the set is SUPERMUD, when I was contemplating buying a single mask this was the one I was leaning towards because of the good reviews. I am so happy I didn't! It is by no means a bad face mask but if I had to choose, I would pick a different mud mask. I didn't see many results and I didn't feel like my pores were really clean. Not my favorite.
2.GRAVITYMUD
This is the only one in the set that is a peel off. It says that it has a tingling sensation and they were not kidding. I really liked this one it made my skin feel really tight which is nice if you aren't getting a lot of sleep. It's also super metallic silver which I thought was cool.
3.YOUTHMUD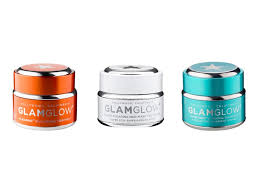 This is anti aging. Im 20. Its not particularly necessary quite yet.
4.THIRSTYMUD
This mask is described as hydrating. I think it is perfect for winter because my skin was really dry from being on a plane and after one use I noticed if felt very moisturized which was awesome.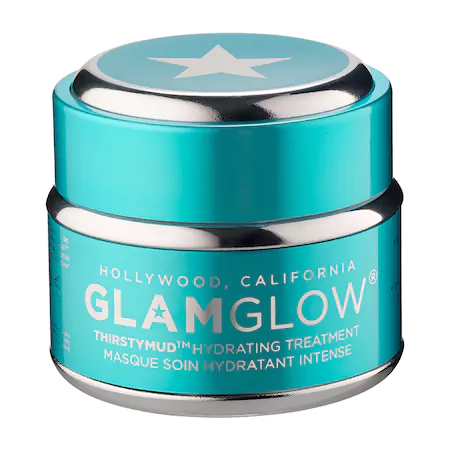 5.FLASHMUD
I definitely think this brightened up my skin. Nothing particularly notable, it was middle of the pack.
6.POWERMUD
I love power mud! Its supposed to detox your skin after you work out and I definitely think it works. It is also really pleasant to have a little ritual after you get done working out.
I did buy a large tub of Gravity mud, it was where I saw the best results. If I could recommend one it would be Gravity mud or Power mud.
Here are a few other masks I tested out:
1. Pearl Sheet Mask
It's a classic. It's 6 dollars and I can't find a better sheet mask.
2. Sheet mask Chaelee got me from Korea
My good friend Chaelee got me A BUNCH of sheet masks from Korea. I am still working on getting through all of them but i've used a couple and the most notable thing is how soft the sheet mask is and how well it stays on my face. I am very impressed. I can't find exactly where you get them but here is a photo incase you are ever in Korea.