I have had these posts in mind for quite a while, a guide to each of the Disney World theme parks! After going to Disney every single day for about 9 months I think I have a solid idea of how to have a good day at the parks. I am going to start off with my favorite park Epcot! We are going to cover Epcot restaurant reservations, fast pass plus and the best shows. So lets get started!
Food
Lets start with food because that is actually the best part about Epcot. Unlike the other parks that have slightly more limited food choices, Epcot is loaded with amazing things to eat.
American– The best place to grab a burger or a flat bread pizza, like some really solid American food. I can think of two places in Epcot that have good selection, the Electric Umbrella, or the quick service location in the American pavilion in the world showcase.
Italian- There are so many options for Italian in Epcot. I personally love Via Napoli for both table service and the pizza window. The table services has pasta and pizza, I have had both and they are amazing. The pizza window is right outside and they serve "authentic" Italian style pizza that is so good. It is located in the Italy pavilion.
Asian- Teppan Edo is a table service that is really delicious in the Japan pavilion. But the best thing in the world is beef noodle from the China pavilion quick service. It is actually the best quick service meal in Epcot. Big big fan.
French- Le Cellier is located in Canada but the food is French (makes sense lol) and it is a very expensive steakhouse. I have never ate their but my roommate has and she said it is amazing.
Mexican- I like the Mexico quick service, tacos, guac, and churros (that are always a bit cold) the food is good. They also have a table service inside the pyramid but I am not a fan.
Some notable hot spots:
Snow Cones! They have Sake snow cones and regular snow cones right before the American Pavilion if you are walking from Japan.
Funnel Cakes! In America they have a funnel cake stand with rotating flavors like cookies and cream and pumpkin spice.
Ice Cream Sunday's! During the summer (it's only open seasonally) they have a booth right outside of Test Track, called Taste Track. They sell extravagant Sunday's with a whole churro inside or strawberry pop rocks. They are really fun and yummy.
Macaron Ice Cream Sandwich! In the France Pavilion in the back on the left they sell these and they are amazing.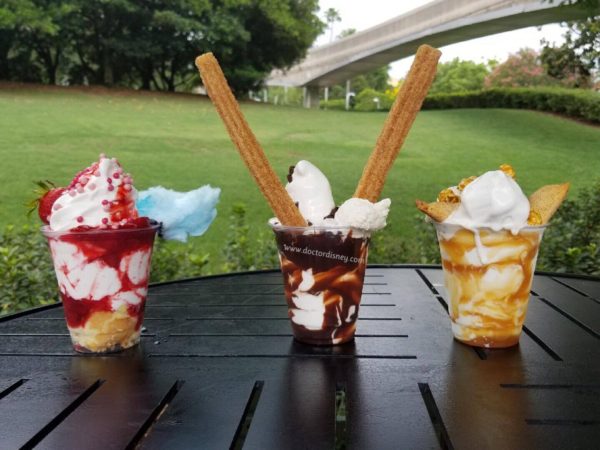 *If you want to read a bunch more about food Disney Food Blog is an amazing resource!
Rides
Ok so now that you have eaten everything in sight your ready to ride some rides and get sick.
Epcot has its attractions split into categories, so that means that you cannot get Fast Passes for all of the best rides. I am going to run you through what I would do with my 3 Fast Passes for Epcot.
From Category One: 
Select up to one preference from this group:
Frozen Ever After (Select this if your kids love frozen)
IllumiNations: Reflections of Earth (NEVER PICK THIS)
Soarin'(usually you can ride this with a minimal wait if you time it right)
Test Track Presented by Chevrolet (If you want to ride together pick this, but if you are ok with single rider than you can choose Soarin)
From Category Two: 
Select up to two preferences from this group:
Disney & Pixar Short Film Festival (NO WAIT)
Journey Into Imagination with Figment (NO WAIT)
Living with the Land (I love living with the land so I would pick this)
Meet Disney Pals at the Epcot Character Spot (If meeting characters is your thing than this should be a thought. It always has a long line)
RELAUNCHED! Mission: SPACE (If you aren't easily motion sick, I love this ride)
Spaceship Earth (Usually a short line)
The Seas with Nemo & Friends (This ride is cute but short. If you/your kids love Nemo than its a must do)
Turtle Talk with Crush (Short line)
So my must do rides are Test Track, Soarin', and Living With the Land. I kind of hate illuminations and they're are rumors they are replacing it and I would love that.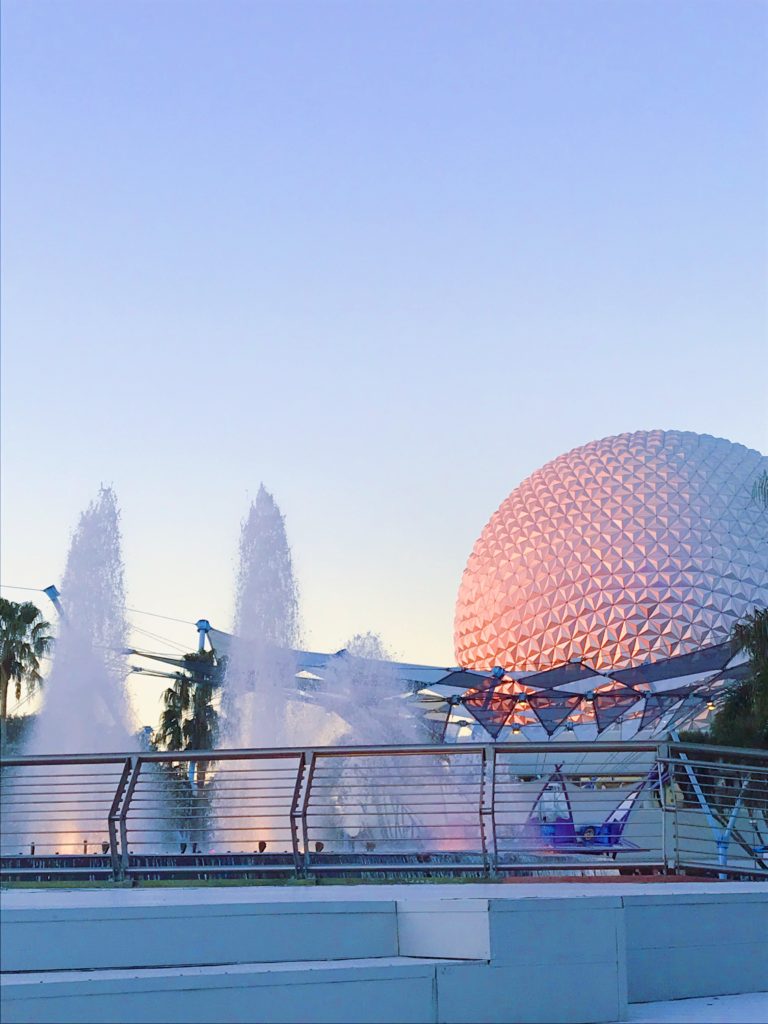 Shows
The best show by far is the Voices of Liberty in the American Pavilion. It is inside the American Adventure hall. It is about 20 minutes and it makes you love America.
Illuminations is not my cup of tea but it is the night time spectacular for Epcot.
Festivals
It is impossible to talk about Epcot without talking about all of the festivals they host. The three festivals are Food and Wine, Flower and Garden, and The Festival of the Arts. Food and Wine starts in about August and Goes until mid November. It is a GREAT time to visit Epcot. I am not going to go into detail right now because that would take a whole post ha. Flower and Garden is beautiful I only went to one day of it (overlap of my college program) and all I have to say is drink the violet lemonade. All of the festivals have booths of food that are (smaller) appetizer size.
Ok so that is all I have to say about that. I love Epcot and next up is Hollywood Studios!